Sydney's Trust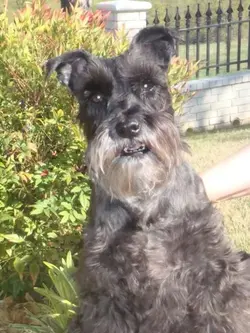 Sydney Catherine, or "Little Sister" as she was sometimes called, was a solid black miniature schnauzer that came into the lives of the Smith Family when she was just a puppy. She loved to play and roll around in the yard. She loved short walks in the park and never chewed up her toys. She preferred the nicer things in life. She could tell the difference between a cheap and an expensive baby blanket. She pranced instead of walked. Sometimes she could be found lying among the flowers in the backyard as if she belonged there. She was great with children and other dogs. Her little infant brother, Dexter, called her "good girl". She even sniffed out a mouse that was living inside the wall of a house. She brought great joy and happiness to her family.
At age 10 Sydney was diagnosed with diabetes in Ada, Ok. Two years later, her family moved to Choctaw, Ok where she became a patient of Dr. Biles and the Westwood family. She came to Dr. Biles due to erratic blood sugar levels and came down with pancreatitis a week later. Sydney was hospitalized for several days before she was finally discharged. She went home on medications and became stronger as the days went by. When 2013 rolled around Sydney began having problems again. Her glucose levels became unstable and trying to find the right amount of insulin for Sydney became difficult. In November Sydney was seen by Dr. Biles for a back issue. She was sent to a specialist in Oklahoma City, where she had an MRI that showed multiple nodules in her spleen and liver, on top of several broken discs in her back. After talking with Dr. Biles, on November 14th, Sydney's parents decided to put her on hospice care and keep her as comfortable as possible. Sydney passed away the evening of November 15th, 2013.
In memory of Sydney and all the wonderful years she provided for her family, Sydney's Trust was formed, to provide for those animals whose owners cannot afford the proper care of expensive treatments. Sydney's family has provided a substantial amount to begin her legacy and plans to donate as much as possible each year. We welcome all to donate to Sydney's Trust in hopes that we can help all animals that come through our doors.
To be considered to receive money from Sydney's Trust an applicant must fulfill the following guidelines:
Owner must provide current vaccine records
The patient must be spayed or neutered
Owner must be denied through care credit. Application must be submitted through Westwood Veterinary Hospital
Money from Sydney's Trust can only be used once in a patient's lifetime
Any patient with the Parvo virus is not eligible to receive assistance
Owner must pay initial office visit as well as 10% of the estimated cost
Owner must sign an agreement stating that they understand the terms of this agreement and will provide proper care for their pet for at least one year and pay for recheck visits for the remainder of the illness
The maximum amount received for a hospitalization stay is $250 per day
The maximum amount received for a surgery is $1000
To donate towards Sydney's Trust, please click the link below. Any assistance is welcomed.