We currently offer services for cats and dogs only
Wellness Visits
We offer routine examination and vaccination visits to keep your pet healthy.
Loving Care Program
We offer a discounted spay or neuter for puppies and kittens that complete our vaccination series. Please review our Programs page or contact us for more details.
Surgery
Our Veterinarian perform both soft tissue and orthopedic surgery.
Radiography
We offer digital radiography which allows for improved diagnostic capabilities with high quality x-rays. This also enables us to consult with specialists.
Ultrasound
Ultrasound produces an image that allows us to visualize the structure and movement of internal organs.
Endoscopy
Endoscopy is the use of a long, flexible tube that contains a camera to visualize the gastrointestinal tract without invasive exploratory surgery.
Dental Care
Dental care is important to the overall health of your pet. We perform professional teeth cleanings and simple extractions. Dr. Biles also has training in surgical tooth extractions and restorative therapy. We also have a digital dental x-ray machine.
Laser Therapy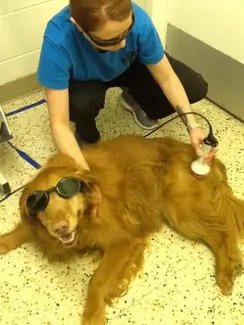 Laser therapy is a non invasive way of helping to reduce pain, speed healing, and promote new cell growth. It is very helpful with many different types of problems.
Pharmacy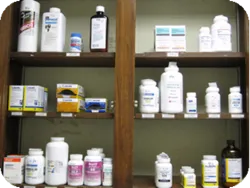 We stock the most common pharmaceuticals in our on-site pharmacy. We also offer an online pharmacy through VetSource that delivers medications to your home.
In-House Laboratory
Our in-house laboratory allows us to perform blood analysis and other testing with results in about 15 minutes.
Prescription Diets
We sell Royal Canin prescription diets for dogs and cats.
We will be able to custom order any prescription food specified by Dr. Biles
Boarding

Here at Westwood Veterinary Hospitals Boarding Facility and Daycare, we want to make your visit as joyful and as convenient as possible!