Here are some pics of our Bed and Biscuit boarding facility
Kitty Kennel
All cats stay in our Kitty City which is a separate, quiet facility just for them.
Kitty Condo
A kitty condo is two kitty kennels that are connected. All cats can upgrade to a kitty condo or two kitties can share a kitty condo.
Standard Kennel
Dogs under 40 pounds stay in a standard kennel for their size. All small dogs can upgrade to a larger run.
$4 charge per night during peak boarding season (including Winter Break,
Spring Break, holidays, etc.).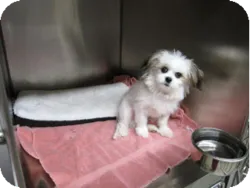 Pick up and drop off
Here at Westwood Veterinary Hospitals Boarding Facility and Daycare, we want to make your visit as joyful and as convenient as possible! Here are our times for pickup and drop off!
Monday, Tuesday, Wednesday and Thursday 7:30 am to 8:00 pm
(If your pet is not picked up by 6pm, you will be charged another night)
Friday 7:30 am to 6pm
(If your pet is not picked up by 6pm, you will be charged another night)
If you have any questions about our boarding/daycare facility, please give us a call at 405-364-1100