Here are our current bathing prices:
Bathing
Bath up to 20 lbs: $17 - Medicated: $22
21-80 lbs: $22 - Medicated: $28
81 lbs and up: $39 - Medicated: $44
*add $5 for dermatological (medicated) bathing*
Brush out (10 minutes): $15
*$10 discounted baths available during boarding.*
Nail care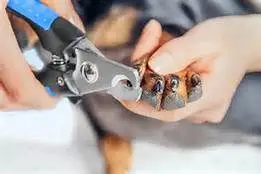 Nail Care$35
Pedi $17
Pedi with dremel $22
Pedi with cleaning ears $22
Pedi with trim/cleaning around eyes $22
Anal Gland expression (internal): $30.50
---
Activities and Extra Comforts
Make your stay even better!!
Meeting the needs of your pet is our top priority! Our experience shows that the more interaction and activity a pet receives while they're away from home, the healthier and happier they will be! We offer a variety of activities and amenities to customize your pet's stay!
Activity Extras (Prices are PER DAY)
---
Extra Activity Sessions/Cuddle Time: $5
Do you have a dog with lots of energy or one that needs a little extra TLC?
Then we have the perfect extra comfort for them! Our Extra Activity
Sessions/Cuddle Time is an extra 20 minutes for your pet to play and release
all their energy or to simply cuddle up and get some loving. Extra Activity
Sessions/Cuddle Time can be customized to your pet's energy level and can
include:


• Extra workout time - walking, running and lots of sniffing!

• Or specialty cuddle time with one of our kennel technicians
---
Bedtime Story Time and Tuck In: $5
Who doesn't love to get tucked in and read a great book?! Our Kennel Technicians will take 15 minutes to give one-on-one attention with your pet by making sure they are all tidy and tucked in while reading one of our books from our library! This is perfect for a dog who loves extra TLC!
---
Off Site Walks: $10
Westwood Veterinary Hospitals Boarding Facility is located around beautiful neighborhoods in Norman! We will have one of our kennel technicians take your pet for a relaxing 20 minute walk around the beautiful neighborhoods surrounding Westwood!
---
Social media & boarding/daycare updates
Daily Boarding Update Package: $2
(Boarding Only)
With this package, we will text or email you each day with updates on how your pet is doing during their stay! You will get information on their behavior, eating habits, bathroom habits, medication given (if needed) and answer any other questions you have along with a special photo of your pet! PRICE IS DAILY.
Individualized Social Media Post: $2
Our Kennel Technicians will take a fabulous picture of your pet while they are in daycare/boarding and we will post it on social media for you to share! PRICE IS PER POST
Monday and Wednesday 7:30 am to 8:00 pm
(If your pet is not picked up by 8pm, you will be charged another night)
Tuesday, Thursday and Friday 7:30 am to 6pm
(If your pet is not picked up by 6pm, you will be charged another night)
Saturday Pickup and Drop Off: 8:30am-4pm (If your pet is not picked up by 4pm, you will be charged another night)
Sunday Pickup **NEW: Sunday Pickup ONLY** There will be a $20 convenience fee added to the bill. 2-4pm
(If your pet is not picked up by 4pm, you will be charged another night)
If you have any questions about our boarding/daycare facility, please give us a call at 405-364-1100